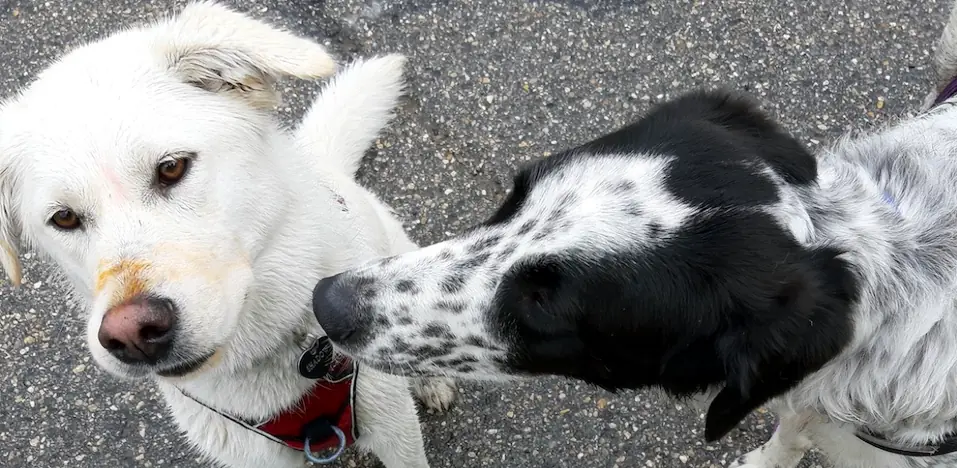 Comet and Shadow
The PostgreSQL pets of the week are Comet and Shadow, two lovely dogs adopted by Karen Jex.
Tell us about your pets
Comet (left) is a 1 ½ year old Setter/Collie cross (or at least we think she is). We adopted her from the local animal shelter when she was around 4 months old after she was rescued from the side of a road in Greece where she had been abandoned with her siblings. She loves to play and wants to be friends with every dog or human she meets.
Shadow (right) is a husky/Retriever cross and is just a few months younger than Comet. She came to us at a year old because she needed rehoming when her human realised that she wasn't able to look after her properly. She's very strong and definitely a bit of a handful but also loves cuddles.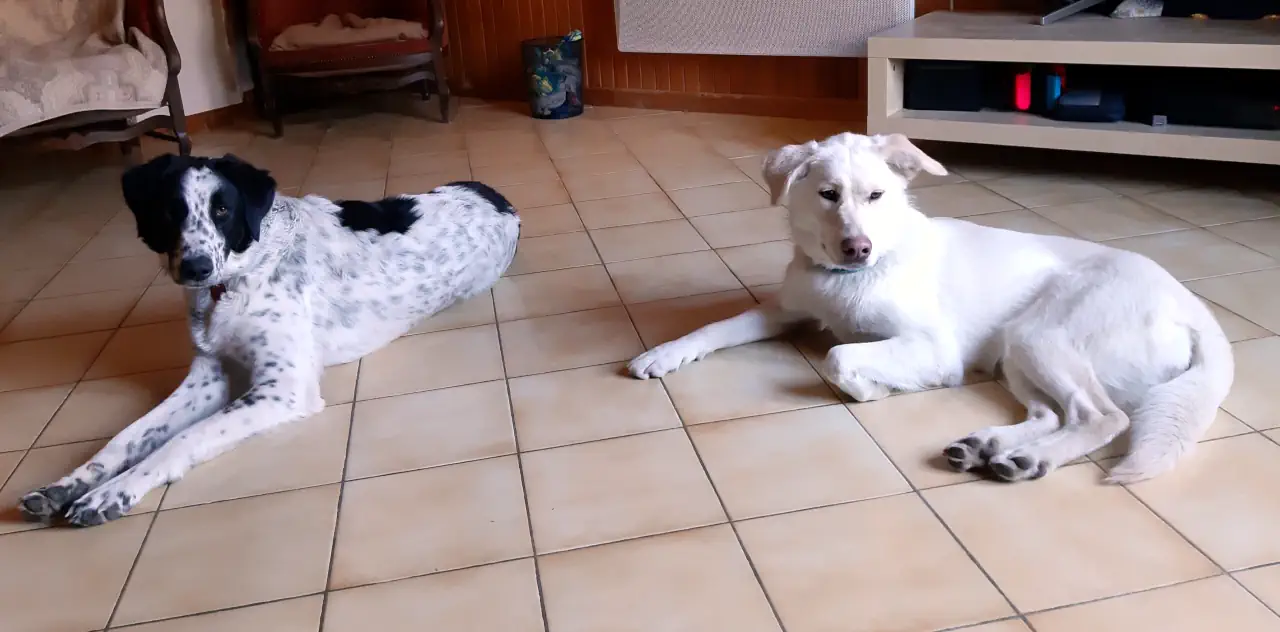 They're both very affectionate and completely crazy. Shadow is definitely the ring leader. You can often see Comet trying really hard to be good but getting carried away and following Shadow into trouble.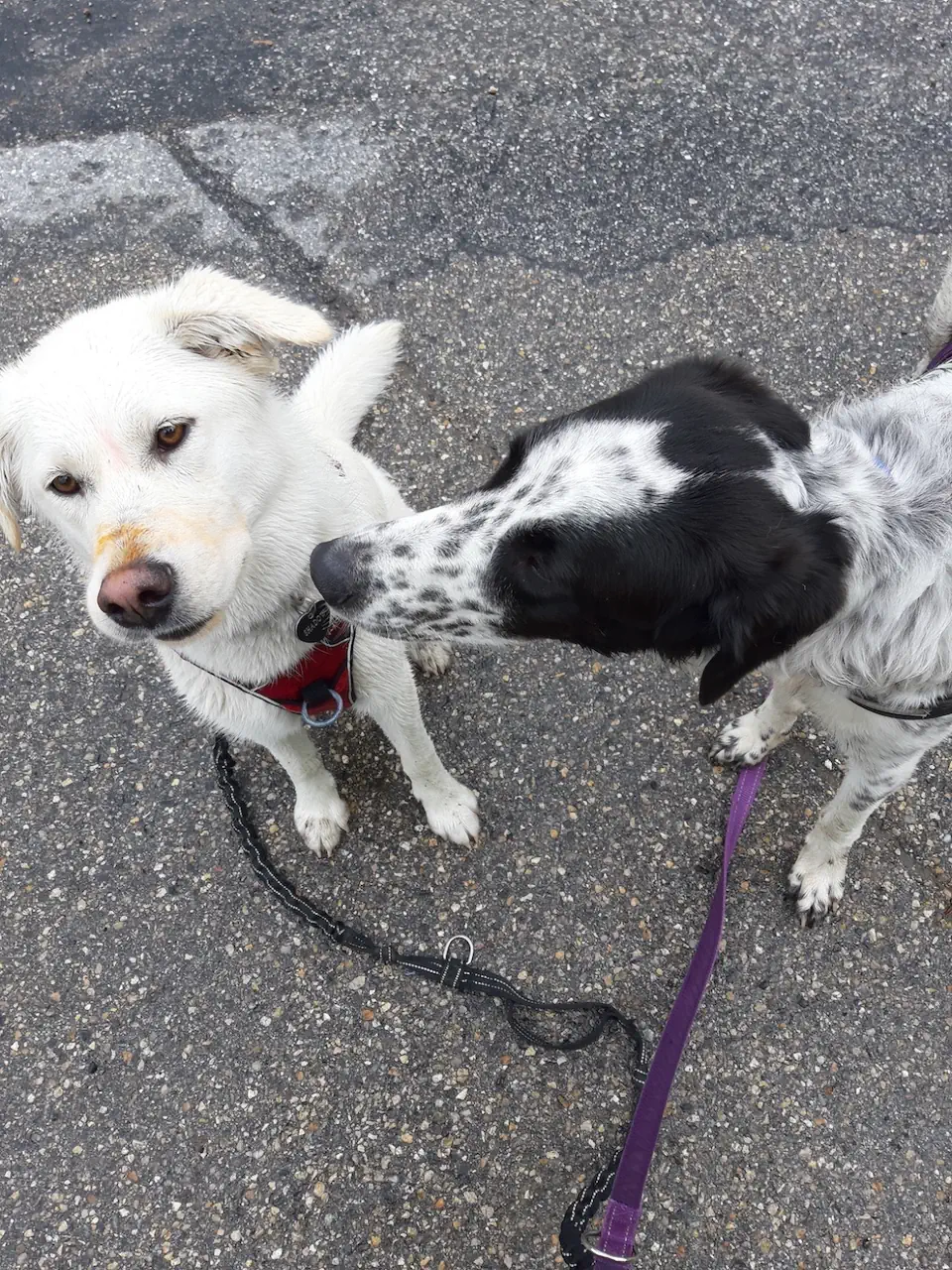 Here, Comet is telling Shadow off for running away to the bins and eating the half-full tin of ravioli that she found there.
How did you choose them?
With Comet, we went to the local animal shelter "just to have a look" a short while after our previous dog, Belle, sadly died of cancer. Of course, "just having a look" at the shelter never actually happens and we fell in love so she came home with us.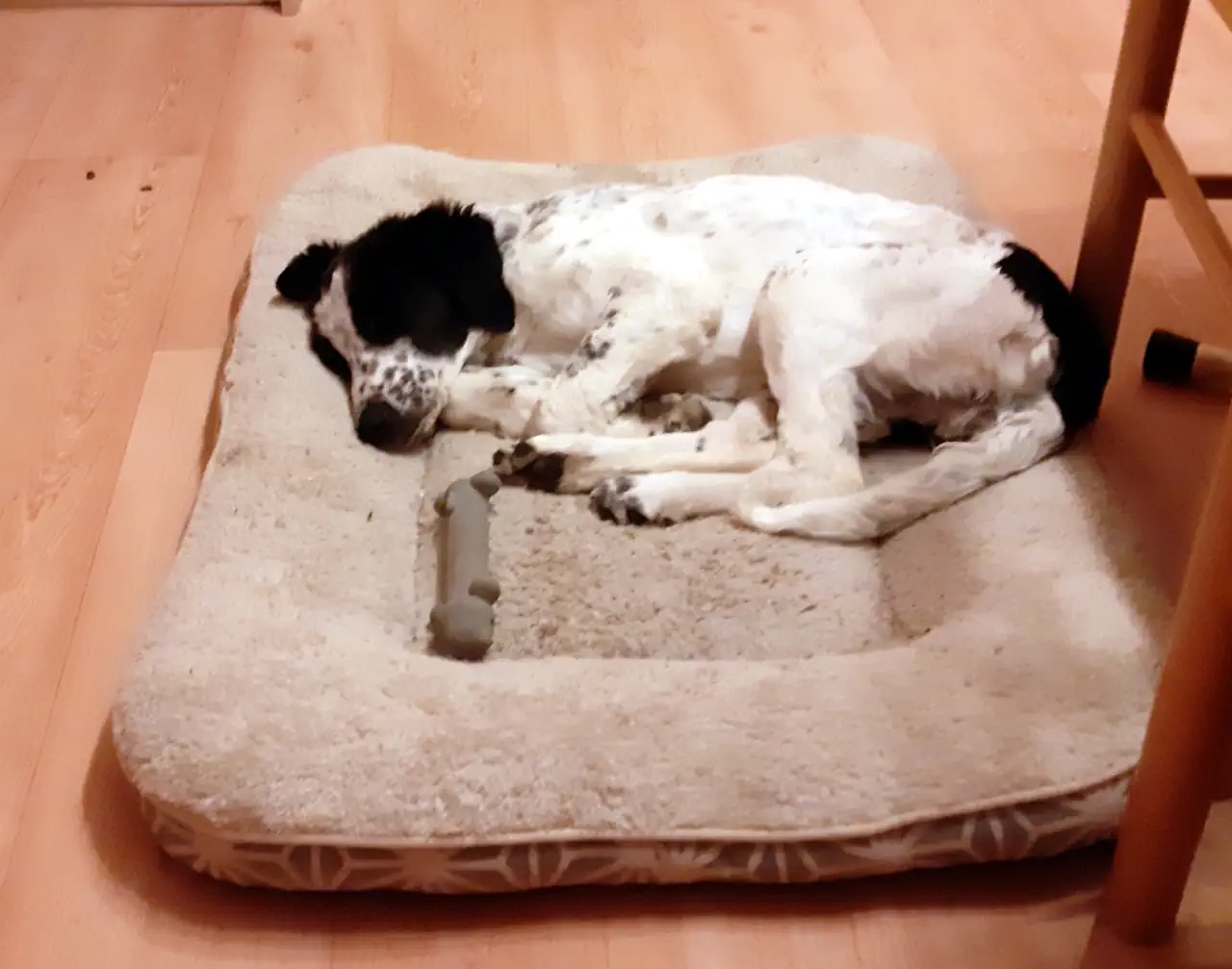 Almost a year after we adopted Comet, we started talking about getting a companion for her because she had so much energy and really wanted company all the time. We saw a post on our local Facebook page about a 1 year old husky/retriever who needed rehoming, and it seemed like fate because she looked almost identical to our previous dog Belle. Again, we just went to have a look and to see how she got on with Comet. We absolutely weren't going to make a decision that day…
Do they help you with PostgreSQL?
Shadow sometimes comes and sits under my desk to make sure I'm doing things right. Comet helps to make sure I take regular breaks from my screen by wandering in to the office and demanding tickles every so often.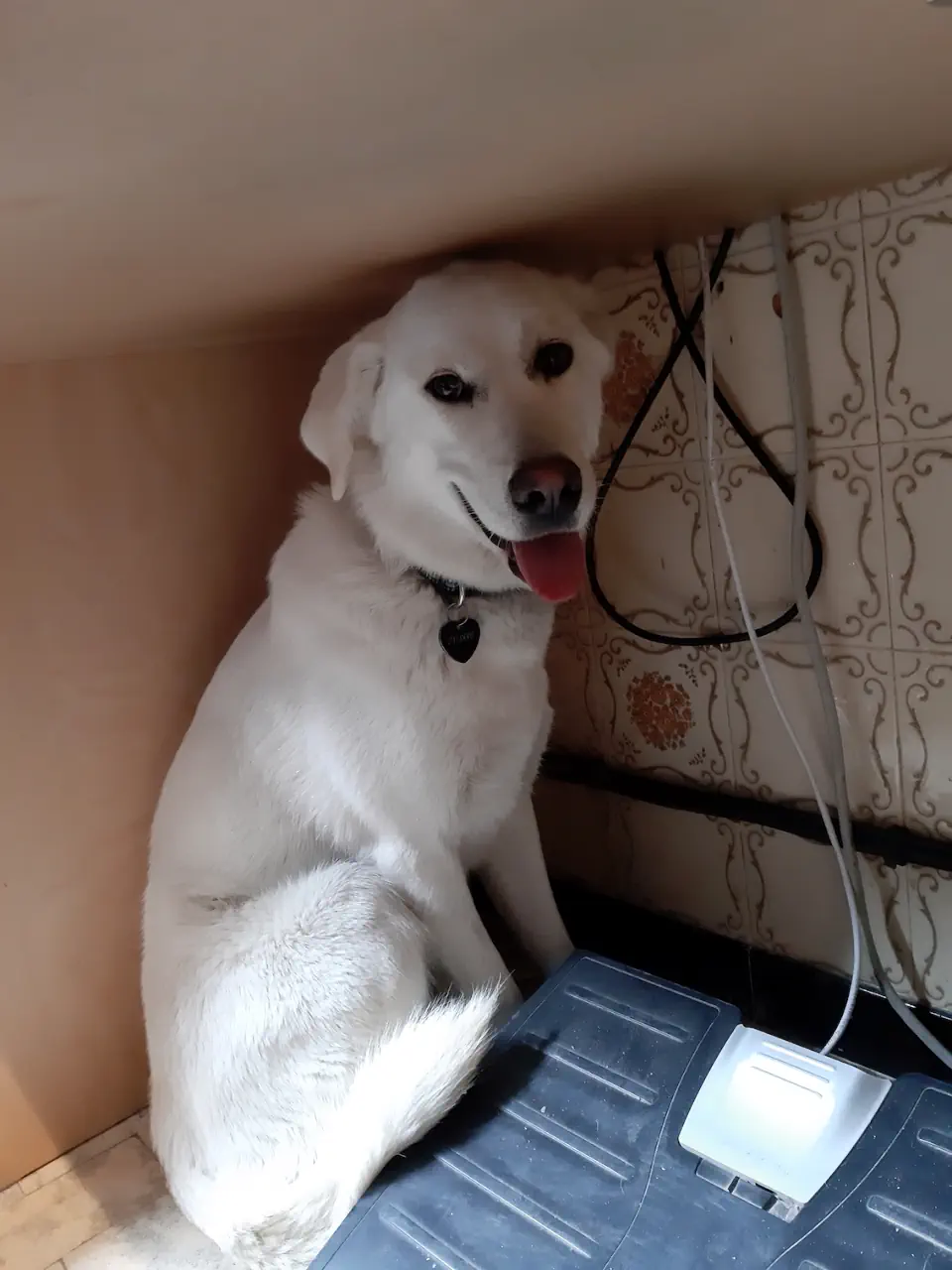 Tell us about the daily routine
Shadow and Comet take me and my husband out for a walk each morning before I start work. Since I work remotely and therefore don't have a commute, it's a really good way for me to get ready for the day. They often meet some of their friends along the way, and always have a little play in the river. Shadow likes to chase runners and bikers (we're working on that, but progress is slow), so she generally has to stay on the lead.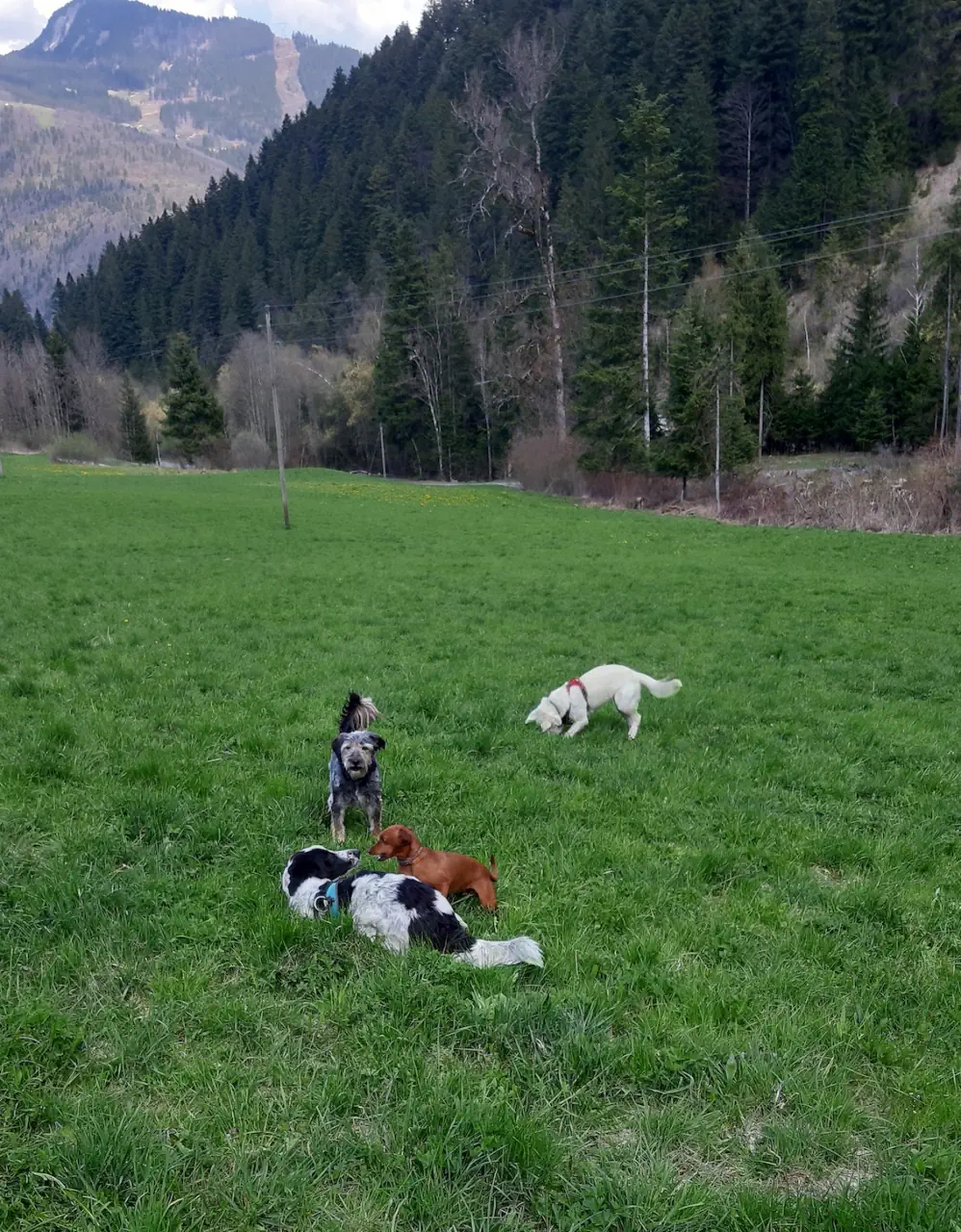 Playing with two of their best friends Pie and Rollo (the mini pinscher who thinks he's a doberman)
Once we get home and they've had their breakfast, Comet spends most of her day relaxing on the sofa (she's not allowed on the sofa but she chooses to ignore that rule) and Shadow spends most of her time chilling on the deck. Both of them like to have a quick bark at passing cats from time to time. Luckily, they have a dog flap and the garden is fenced in so they can come and go as they please.
We have another little walk when I finish work, then they usually have a crazy hour or so where they wrestle each other, play tug-of-war with their rope toy and sometimes drag each other around the living room on a blanket.
If they wear themselves out enough, they'll have a little snooze on their favourite chairs.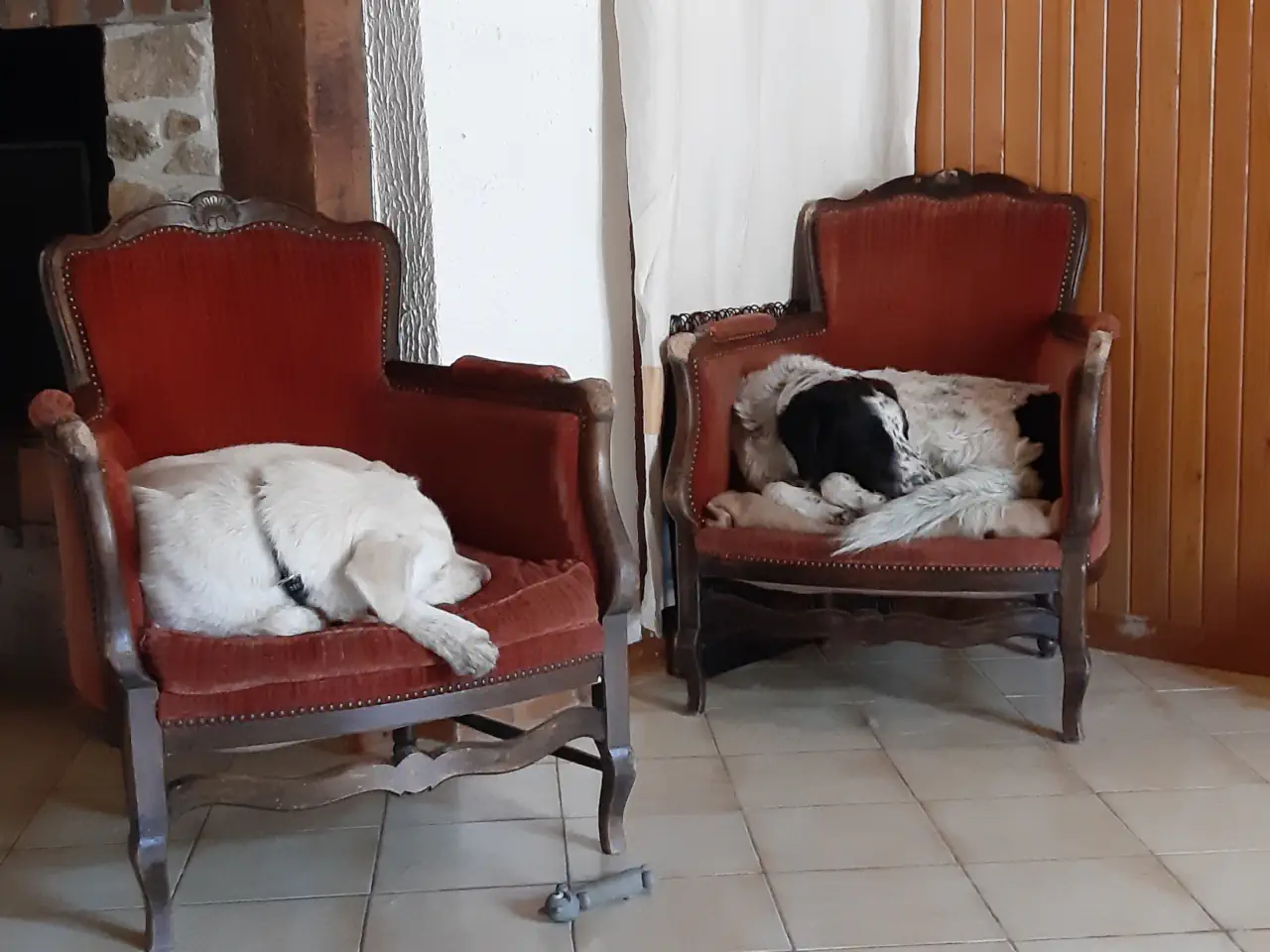 When they decide it's time for bed, Comet likes to sleep just outside our bedroom and Shadow prefers to be outside on the deck.
How did you choose the names?
Comet has a marking on her side that looks like half a star, so we tried to think of a space-related name. Our eldest came up with Comet and it suits her very well when she's zooming around with her friends.
Shadow was already named when we got her and we forgot to ask where the name came from. It's quite ironic though, since she's completely white.